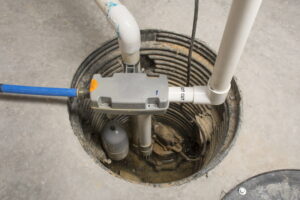 For homes in our climate, the sump pump is a staple appliance, resting in the basement or otherwise the lowest point of a property. Sump pump systems help you avoid water damage due to flooding, switching on automatically as they gather excess water in the pit (sump) and then pump it out, either to a well or a wastewater system.
While you might not think that a huge flood can impact your house this way, you'd be surprised what a plumbing mishap or heavy rainstorm can do. And standing water in the basement or crawlspace of a home is a huge problem. It can cause severe damage to the foundation of your home, rotting away wood, and creating other hazards.
It also raises the humidity in your home, encouraging mold and mildew growth. We suggest that most homes in our area have a sump pump installed as an important precaution. Of course, if you found your way to this particular blog post, then chances are you already have one, so, how often should it be checked? Read on to find out!