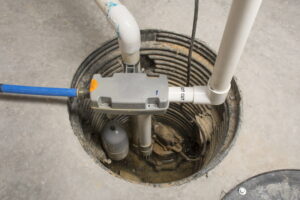 For homes in our climate, the sump pump is a staple appliance, resting in the basement or otherwise the lowest point of a property. Sump pump systems help you avoid water damage due to flooding, switching on automatically as they gather excess water in the pit (sump) and then pump it out, either to a well or a wastewater system.
While you might not think that a huge flood can impact your house this way, you'd be surprised what a plumbing mishap or heavy rainstorm can do. And standing water in the basement or crawlspace of a home is a huge problem. It can cause severe damage to the foundation of your home, rotting away wood, and creating other hazards.
It also raises the humidity in your home, encouraging mold and mildew growth. We suggest that most homes in our area have a sump pump installed as an important precaution. Of course, if you found your way to this particular blog post, then chances are you already have one, so, how often should it be checked? Read on to find out!
Checking Your Sump Pump Functionality
Ensuring your sump pump is operating as it should be means testing it on a regular basis, but what's regular? We recommend checking your sump pump once per season, and more often than that if it actually gets used. Sump pumps are one of those systems you hope you'll never need, but you'll be glad to have one when you do!
The reason checking your sump pump is so important is because the last thing you need is to find out during a flood that it's not working. Read on to learn how to test a sump pump, and give us a call if you have any problems or want to schedule professional maintenance–which we recommend once a year.
Check to See If Your Sump Pump Has Power and Automatically Turns On
All you need to do here is find the outlet where the sump pump is plugged in and then plug it back in. If it turns on, you're in good shape! If it doesn't, reach out to our team.
Pour Water into the Sump
The next step is to actually pour water into the pit where the water collects (the sump). First, you'll want to clean the sump out if it has any debris in it, such as rocks, gravel, or leaves. You want the sump to be as clean as possible. Next, pour a few gallons of water down into the sump.
If your sump pump is a pedestal model (positioned above the sump) watch the float as the water rises–this should cause the pump to start up. If you have a submersible model sump pump, then the system should activate once the water rises above the intake.
Make Sure All the Water Drains Out
Ensure the water completely drains out from your sump pump. If it doesn't, or if you experienced any trouble with the previous steps, it may be a good idea to call a pro at this point.
Established in 1912, Max Sr & Paul Schoenwalder Plumbing, Heating and Air Conditioning, A Corp. is your trusted resource for reliable sump pump services. Reach out to us today.