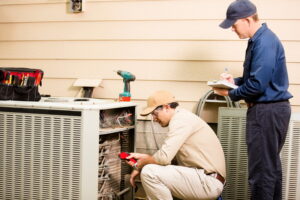 Have you ever wondered when the right time to schedule professional air conditioning maintenance is? If you ask a qualified and experienced HVAC professional, they'll likely tell you that the answer is in the early spring, before you actually need your cooling system the most.
This is a good recommendation! Of course, another question homeowners often ask our professionals is, "do I really even need air conditioning maintenance?" We get it–you could be wondering why you'd want to pay for a service on your air conditioner when the system is operating "just fine."
The fact of the matter is, "just fine" isn't always good enough. Your air conditioner, for example, might not be operating as efficiently as it otherwise could be. This means you'll be paying too much to use the system, plus it can accumulate wear and tear at a faster rate than it otherwise would. Routine maintenance helps reduce repair needs, increase equipment lifespan, and improve efficiency. Read on to learn more!