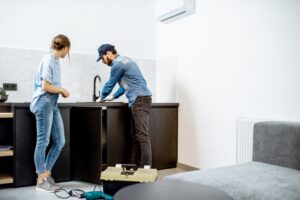 This is a popular time of year for many indoor remodeling projects since homeowners aren't typically spending a whole lot of time outdoors. However, small remodeling projects can become huge headaches if they're not done correctly, or done without any professional assistance.
Take your kitchen plumbing, for example. There are actually quite a few things that can go wrong with your plumbing on any given day–a jammed-up garbage disposal, a clogged drain, a leaky plumbing appliance. Add on an amateur remodeling job and you could have the recipe for disaster. No need to worry though–we have some tips for you below on how you can plan around your plumbing with your kitchen remodel so you can avoid the pitfalls that other homeowners have faced. Read on!
Do Fixtures Need to Be Moved?
Before you get started on your kitchen remodel, take note of anything that might need to be moved. This can include your oven, your refrigerator, and more. So, if you have a gas-powered oven, you'll need to consider your gas piping. And for the fridge… if it has an icemaker, that's attached to the plumbing, so you'll need to factor this in too.
Working with a trained and experienced plumber is the ideal way to ensure that you aren't making any hasty decisions with your remodeling project.
Consider Rerouting Your Plumbing
This is where our team comes in! Once you have an idea of where you want plumbing fixtures to be moved, our plumbing professionals can come in and reroute any pipes that need it so that your plumbing system fits the needs of your kitchen remodel job.
This is an important first step before you even begin installing new appliances, flooring, or cabinetry, since rerouting plumbing could potentially involve cutting into flooring or drywall.
Add Shutoff Valves
If your kitchen plumbing appliances and fixtures don't already have water shutoff valves in place, then it's time to have them installed. This gives you control over your plumbing system and ensures that in the case of a plumbing emergency, you'll be able to quickly turn off the water supply even if you aren't able to access your main water shutoff right away (which is actually pretty common in multi-family housing complexes).
Schedule a Plumbing Inspection and Drain Cleaning
So, what if you are planning a kitchen remodel completely around your plumbing system, meaning that you aren't planning on moving any plumbing fixtures or appliances or changing anything up in that regard? Should you still call a plumber?
Well, yes, we think so. Especially if you have an aging plumbing system. Could you imagine having a brand new, beautiful kitchen, with new paint, cabinets, and maybe even new flooring–to find out that an old pipe has sprung a leak behind your drywall or your floorboards?
A plumbing inspection will allow you the peace of mind to move forward with your kitchen remodel without worrying about a plumbing mishap messing things up for you. You should also consider a professional drain cleaning at this time, as this can both resolve problems now and prevent problems later!
Established in 1912, Max Sr & Paul Schoenwalder Plumbing, Heating and Air Conditioning, A Corp. is your trusted resource for reliable Chatham, NJ plumbing services. Reach out to us today.