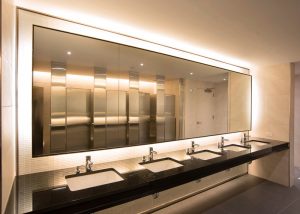 Of all the things you think about in terms of running your business or managing your commercial space, we're going to assume that the building's plumbing is not at the top of your list. However, it would likely cause considerable problems if your commercial plumbing stopped working correctly, right?
And unlike residential plumbing systems, which just cause a temporary inconvenience when in disrepair, a malfunctioning commercial plumbing system could mean lost business and costly repairs. Of course, there is a way to keep your commercial plumbing in good shape and reduce the risk of running into unexpected commercial plumbing repair needs. What's the secret?
Hiring a professional to perform commercial plumbing maintenance. Read on to learn more!
Catch Problems Early
Most plumbing systems—yes even commercial plumbing systems—don't show obvious symptoms until a problem has had considerable time to develop and cause property damage. For instance, consider pinhole leaks. They're named for their small size, and these leaks are too small to cause significant problems like a drop in water pressure or rising monthly bills.
Rather, they usually go undetected throughout the months, while they inflict water damage to the surrounding areas. This doesn't mean, however, that this can't be prevented.
Yes, when you actually know you have a problem with your commercial plumbing system, you should give us a call for repairs. The longer you wait, the more opportunity there is for the problem to grow and cause further harm to the plumbing and your property. But in order to prevent those repair needs, your best bet is to invest in routine commercial plumbing maintenance.
Plumbing maintenance allows our plumbers the chance to comprehensively inspect the plumbing system using tools like video pipe inspection to take a look deep inside. Older plumbing systems run the risk of giving in to problems like rust and corrosion, which is usually when leaks happen. But video pipe inspection allows us to catch these small leaks and even check what your risks are for leaks.
From there we can help you make an informed decision on how to proceed, whether it's partial or full repiping, or just pipe repair for now. But the first step is always maintenance!
When Should You Schedule Commercial Plumbing Maintenance?
If you've been following our blog for very long, you've probably seen us recommend that you have heating maintenance done in the fall and air conditioning maintenance done in the spring. This allows our techs to fully inspect and repair the systems before you need them the most.
But plumbing isn't used seasonally like HVAC systems are. So, our answer to this question is, if you haven't had commercial plumbing maintenance done before, or if it's been over a year, you should schedule this service today. This can help you save yourself a headache and help your bottom line stay right where it should be.
Established in 1912, Max Sr & Paul Schoenwalder Plumbing, Heating and Air Conditioning, A Corp. is your trusted resource for reliable plumbing in Union, NJ. Reach out to us today.