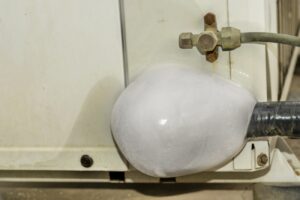 If someone asked you where you most expected to observe ice forming, you'd probably say on the streets in the wintertime, or maybe inside your freezer. These are sensible responses! What isn't sensible, however, is seeing ice anywhere on your cooling system. Maybe you've never considered this, and maybe the first time you discover it, you'll think it's normal. After all, cooling systems chill the air, right?
While air conditioners do chill the air, ice is never a part of the process, and if you see it developing anywhere on your air conditioner, it's not okay. Of course, this doesn't mean you should try to remove the ice on your own–this can damage the system further and not get to the root of the problem causing the ice. So, your next step should be to call our team!
In the meantime, however, read on to learn a bit more about why this happens.