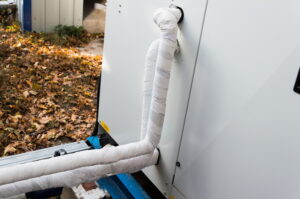 If you're like many homeowners, you might not actually understand how exactly the refrigerant in your air conditioner works. Perhaps you've heard of it, and know that it is important, but aren't quite sure what it actually does. 
Refrigerant is what makes the cooling process even possible in your air conditioner. It is literally the chemical substance that enables your air conditioner to do its job in cooling down your home.
There's a common misconception about this substance, however, that too many people believe–that refrigerant is a fuel that depletes from your system like gasoline does from a vehicle. But this isn't true at all. Actually, your cooling system is supplied with enough refrigerant upon manufacturing to ideally last its entire lifespan! Therefore, if your system is losing refrigerant, it means there is a leak that has to be repaired.
Read on to learn more, including why this misconception is harmful to believe.