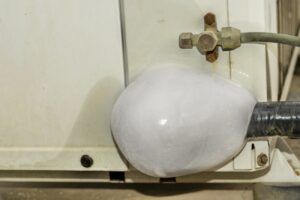 Have you recently noticed ice on the coils of your air conditioner? Are you wondering if it's a normal thing? Ice and air conditioners are a bad combination. In the case of frozen coils, these usually result due to a refrigerant leak or a clogged air filter. The airflow in your system becomes uneven, so that coils are unable to stay warm. As the temperature of the coils drops, they freeze and are unable to function properly. This can prevent your AC from cooling well. 
In the case of a refrigerant leak, it can lower the pressure levels of this coolant in your system. As a result, the internal temperature of the system falls, and ice forms over the coils. Refrigerant leaks are worrying due to other reasons too.  It's the chemical substance responsible for actually cooling your home. Without it, or without enough of it, your compressor (the heart of your air conditioner) will struggle to perform and may even break down years before its time. 
Here we highlight some of the most common signs that your AC coils may have ice on them. We also discuss what you can do to resolve the problem.