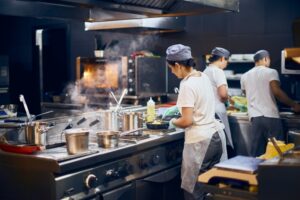 Businesses require plumbing systems that are in tip-top shape not only to make their customers happy but to meet health codes as well. Commercial plumbing systems are much more complicated than residential plumbing systems. The sheer volume of pipes, valves, fixtures, and components that are needed to accommodate the huge amount of water volume and waste doesn't even compare to what's needed for a home. 
That's why you can't rely on just any plumbing company to tackle your business's plumbing issues. You don't want someone who isn't familiar with complex commercial plumbing systems to try to repair a major plumbing issue and then make it even worse.
When problems with your commercial properties arise, not getting them fixed immediately and adequately can result in major consequences. Buildings and businesses must meet certain standards and failing to do so can result in a lawsuit or an issue with permits if the plumbing isn't fixed up to code.
Here are some common commercial plumbing problems that warrant a call to our team for commercial plumbers in Chatham.