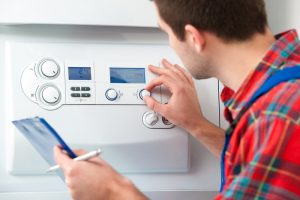 "What do you mean by that?" you might ask.
Well, what we mean is, rather than waiting for a sudden need for boiler service in Union, NJ, such as an emergency repair, you should be proactive and pre-emptive, and schedule boiler maintenance soon.
"Wait, does my boiler really need to be maintained?"
It may seem like a simple enough system—way less complex than a furnace, for example. Boilers are often found in homes that don't have a network of ducts, since they operate by circulating hot water through pipes to terminal points such as radiators and baseboard heaters, where the heat then radiates into the rooms of your home. And yes, boilers have fewer moving parts than furnaces or heat pumps so they wear down slower and will require fewer repairs over their extended lifespan.
But that doesn't mean they won't ever wear down or need a repair!