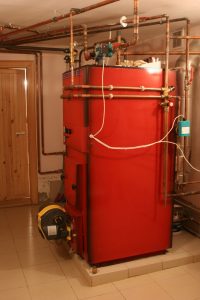 If you have a steam boiler in your home, congratulations. You have a reliable and efficient method of heating your home that offers many benefits which we're certain you're aware of. You probably love your steam boiler so much that you're apprehensive about switching to a different system for heating in Chatham when your old boiler finally retires. However, we can assure you that new steam boilers are very much an option for new installations.
If you're not aware of the steam boiler's benefits, read on! You might think that steam technology is an outdated concept that you only hear about in old movies. But steam is still a tried-and-true technology. Homeowners need to know that they're not only an option, but that they're a great choice when it comes to home comfort.
How Steam Boilers Work
It helps to know how steam boilers work to understand why their technology is still relevant. The boiler heats up (boils) water to the point where it evaporates and becomes water vapor. This vapor is essentially a gas and moves through the home's pipes and into radiators or baseboards, transferring heat to each room. This process also produces radiant heat.
Radiant Heat Benefits
Many homeowners prefer the radiant heat that boilers create as opposed to the heat created by forced-air systems. That's because, in a lot of ways, radiant heat just feels more comfortable and cozy. It's similar to the feeling you get when you're standing directly in sunlight on a sunny day. Let's explain. 
When the sun shines on your home, it doesn't just warm the roof and siding. It's powerful enough that it radiates throughout the objects of your home: the windows, walls, ceilings, and even the floors. Just like when you stand in the sunlight, you don't just feel it on your skin. It's a warmth that feels like it's heating your entire body.
The radiant heat created by boilers emanates through the objects it comes in contact with. This method of heating sometimes feels like a more thorough method of heating. Instead of a forced-air system that blows hot air around your home, you'll feel radiant heat through your home's "bones."
Benefits of Steam Boilers
There are several important benefits to consider when deciding if you want to install a new steam boiler or replace your outdated steam boiler with a new and advanced model.
Energy savings: They use less fuel to heat your home than furnaces.
Consistent heating: Radiant heat is more consistent and evenly distributed than the heat produced by furnaces which can leave cold pockets around the house.
Less noise: Boilers are practically silent compared to furnaces which make noise when air is blown around the house
Cleaner air: Boilers are the better option for people who suffer from allergies or other respiratory problems. That's because dust and allergens aren't being blown throughout the house. Boilers are the better option when it comes to better indoor air quality (IAQ).
Established in 1912, Max Sr & Paul Schoenwalder Plumbing, Heating and Air Conditioning, A Corp. is your trusted resource for reliable heating. Reach out to us today.