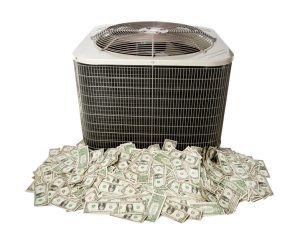 If there's anything that the majority of homeowners want to know, it's how to make their air conditioner more efficient so they can save money on their energy bills. Considering how uncomfortably hot it can get during our long summers, it's only natural that you are one of these homeowners!
And we have good news—there are a number of AC services that will help with this, including preventive maintenance to help fend off repair needs and lower your bills. There are also HVAC and indoor air quality products that can help with this too. Plus, simple things like adjusting your thermostat a few more degrees higher than you normally due, and changing your air filer very 1-3 months, will help!
Interested? Keep reading to learn more!
More about Maintenance
If you've been following our blog, you've seen us mention maintenance before. We really cannot understate its importance. Professional AC maintenance allows our technicians to thoroughly inspect, clean, and adjust components that need it. And a cleaner system is a more efficient system!
Maintenance is typically recommended in the spring for air conditioner systems (and in the fall for heaters). But timing is less important than frequency! You should schedule AC maintenance once a year for your air conditioner. Or, if you have a year-round heat pump, twice a year.
This will surely give you a more efficient system, not to mention a longer-lasting system. In fact, a well-maintained air conditioner will retain 95% of its original efficiency throughout its lifespan, and maintenance can prevent up to 85% of the emergency repair needs you might otherwise face!
Consider Dehumidification
We mentioned how the right indoor air quality products could help improve your AC efficiency. One of these products is the whole-house dehumidifier. When the relative humidity in your home rises above 50%, that is considered too high—there is too much ambient moisture to let the sweat evaporate off of your skin, making the air feel hotter than it actually is. This is not only uncomfortable but also unhealthy.
Air conditioning systems do remove some moisture from the air by default, but not enough to be truly effective because AC systems are not designed for that purpose—it's because of this fact that too much humidity causes your AC system to behave inefficiently.
When you're able to set humidity levels below 50% (but above 30%), you're able to get rid of the muggy environment that can make you and your family ill (due to mold and mildew growth) and make your air conditioner work harder than it should have to. Essentially, dehumidification takes the extra strain off your AC system.
Interested in learning more? Please don't hesitate to ask! We also offer air purification and filtration options to make the air you breathe healthier, and contribute to a more comfortable indoor environment overall.
Established over a century ago, Max Sr & Paul Schoenwalder Plumbing, Heating, and Air Conditioning, A Corp. is your trusted resource when you need professional service for your air conditioning in Madison, NJ. Contact us today!