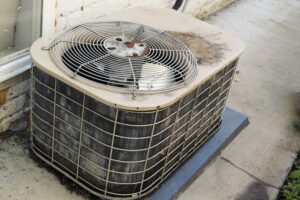 Summer has officially begun, and temperatures are starting to warm up. If you've already turned on your air conditioner for the season and discovered that it has some troubling symptoms, you may be wondering if you can put off managing them.
Typically, it's always best to contact a professional to take a look if your air conditioner is struggling, whether it's not cooling as powerfully as you think it should be, you suspect ductwork damage, it's making strange noises, or anything else that seems suspicious.
In many cases, we'll be able to conduct a repair for you and your air conditioner will get you through the rest of summer reliably and efficiently. It is possible, however, particularly if you have an aging system, that it's time to replace your cooling system altogether. Read on to learn the signs that this time is nearing.
Your Cooling System Still Uses R-22
R-22 is a type of refrigerant that was used in AC systems for a long time. But as of two years ago, its sale and manufacturing were officially phased out. This means that any air conditioner that still uses this type of refrigerant will be more difficult and expensive to repair than not, if it has a refrigerant leak.
If your system still uses this refrigerant, you'll probably be best off both financially and efficiency-wise if you upgrade it.
Your AC System Is Old
Do you know the average useful lifespan of an air conditioning system? As long as you keep up on your professional AC maintenance appointments, your air conditioner should last about 10-15 years. Beyond this point, it's going to start accumulating repair needs faster, operating inefficiently, and just not work as powerfully as you need or expect it to.
You're Calling for Frequent Repairs
How often do you find yourself calling for an air conditioning repair? If it's once every few years or so, then you'll likely be fine sticking with the system you have for now.
However, if you find you're calling for repairs 2-3 times a year, it's time to start considering a replacement system. It's likely going to be more economically feasible to do so. A good rule of thumb is that if your next repair or set of repairs is going to cost half of what the system is actually worth, it's time to replace it.
Your Repairs Are Expensive!
This goes hand-in-hand with our last tip. As we mentioned above, if your repair bill is equal to half the cost or more of a new air conditioner, then your money is almost certainly better spent on upgrading. You might even discover that you prefer a different type of system altogether to improve efficiency, such as upgrading from a central air conditioner to a heat pump, or a ducted heat pump to a ductless mini-split.
Our team is happy to discuss all of your options with you. If you do decide to stick with repairs for now, that is of course your choice! We are here to help you make an educated decision.
Established in 1912, Max Sr & Paul Schoenwalder Plumbing, Heating and Air Conditioning, A Corp. is your trusted resource for reliable AC services. Reach out to us today!