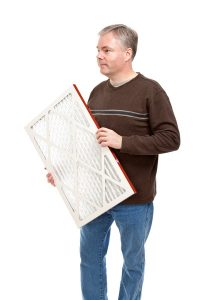 Temperatures are warming, and it's almost time to start using our air conditioners on a daily basis again. If you haven't already, this means that now is the perfect time to schedule your professional air conditioner maintenance appointment. Professional tune-ups enable our pros to fully inspect and clean your cooling system, making any adjustments we see necessary, and recommending repairs as needed, too.
Managing these repairs before you need your air conditioner daily will ensure your system lasts all season. Once professional maintenance and repairs are taken care of, you're off the hook, right? Well…not quite. We actually encourage you to take care of a few smaller maintenance tasks in between professional services to ensure your air conditioner is good to go for the warmer weather. These tasks include:
Checking Around Your Outdoor Unit
This is called the condenser unit and is housed behind panels that enclose electrical connections and other important system parts. If anything has damaged these panels—such as inclement weather—then it's imperative that you call in a pro to ensure the safety and functionality of your air conditioner.
Also, be sure to remove any debris that might restrict airflow. This can be anything from tree branches and dirt to lawn clippings or leaves. In addition, if your outdoor unit was covered during the winter as many units in our area are, don't forget to remove it before using your AC for the first time!
Changing the Air Filter
You may have seen us mention this before, but there is a fairly common misconception out there about air filters. Many homeowners believe they are in place to protect their home's indoor air quality. While having one in place certainly doesn't hurt your indoor air quality, this filter's purpose is actually to protect the interior components of the system itself from debris, dirt, and other potentially harmful contaminants that can hurt its efficiency.
Cleaning Obstructions Away from Your Vents
Check to make sure that both your supply and return air vents are open, and free from obstructions. Your system's airflow can be blocked by a buildup of dirt or debris, or can even be impacted by furniture in front of them. Cleaning and checking all your vents at the beginning of each cooling season (and at the beginning of each heating season for that matter, if you're using a forced air heater) is a great best practice.
Listening to it Run
When your air conditioner turns on and the compressor starts running, you should feel cold air within a minute or two. You should also hear a steady hum. If you're hearing anything other than this, such as a rattle, clanging, hissing, or short-cycling (when the compressor rapidly turns on and off) then you likely have a problem on your hands that needs to be checked out by a pro.
Max Sr & Paul Schoenwalder Plumbing, Heating, and Air Conditioning, A Corp. has been serving Union, NJ and the surrounding communities for over a century. Contact us today for reliable air conditioning service in Maplewood, NJ.