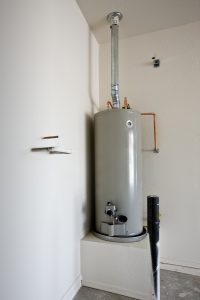 No matter what season it is or temperatures are outside, there is one heating system you'll always need to function at full capacity—your water heater. It's easy to take this home component for granted, and blindly trust that you'll have hot water from the taps whenever you need it.
When you think about the amount of strain a water heater has on it (it works 365 days a year, after all) it's easy to understand that you can't expect it to work 100% free of problems. At some point, you may need to invest in professional Union water heater repair. It helps to know the warning signs that something has gone wrong, the biggest of which we've covered below.
Drop in Hot Water Volume
Have people in your household begun to complain about going with lukewarm showers in the morning? If this is new, and there used to be sufficient hot water for everyone, it means that your water heater is probably losing heating power. This is one of the most common signs a water heater either needs to be repaired, or, if it's old enough, upgraded.
Discolored Water
Turn on your hot water taps. Do you see rusty, brownish discoloration in the water? It may look similar to what you'd see in the water when you turn on the faucets after coming home from a long vacation. This is a sign that there's too much sediment inside the hot water tank, which can lead to corrosion (which we'll get to below).
Corrosion
Water heaters are naturally designed to resist corrosion for as long as possible, so long as they receive regular maintenance each year. If corrosion starts to affect your water heater, it can sometimes be fixed by replacing the corroded portion, such as a heat exchanger. However, corrosion is usually a sign that it's time to replace your water heater.
Rumbling Noises from the Tank
This sound can be alarming—is your water heater tank about to burst?! The good news is, probably not. However, the noise isn't something you want to hear, or ignore. It may be there's been an increase in water pressure within the tank, sediment along the bottom of the tank, a broken expansion valve, or cold and hot water mixing at the top of the tank due to a broken dip tube. Have our repair experts look into it ASAP.
Water Leaks
It probably goes without saying that you never want to see water pooling around the base of your water heater. The only place that water should drip from the tank is the pressure relief valve. If you see water coming from any other area, it's a serious problem that needs to be repaired before the leak becomes worse.
Whether you notice these signs or just have general concerns about your water heater system, we are the team to call. Repairs might get your tank water heater back up to speed, or you might even want to discuss the benefits of upgrading to a tankless system for your home.
Reach out to Max Sr & Paul Schoenwalder Plumbing, Heating and Air Conditioning, A Corp. today for exceptional water heater services.