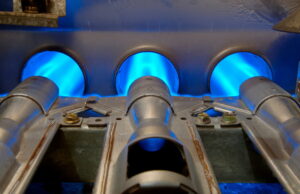 Safety is on everyone's minds this year. More specifically, the health and safety of our families is a top priority, as it should be. Because of this, you may be looking for ways to ensure good health hygiene in your home. You probably have everyone washing their hands, you likely are keeping surfaces as clean as possible, and then hopefully you have the right indoor air quality products in place to boost immunity and make your home more comfortable in general.
But there is one thing that often escapes homeowners' minds this time of year, and it can be a pretty important one—get your furnace maintained!
This is a service we typically recommend in the fall, before you need the system the most. It's important for all heating systems, but especially gas-powered furnaces, and especially gas-powered furnaces that are 10-15 years of age. Read on to learn why!
The Importance of Gas Furnace Maintenance
Gas furnace maintenance is important for a number of reasons. During maintenance, our technicians thoroughly inspect the entire system for signs of natural wear and tear. We'll let you know when components need to be replaced, and if you have any pending repair needs. This way you can get them on your schedule ASAP.
We also clean the system inside and out, removing dirt and grime from important parts such as the burners. When too much grime builds up, it can prevent the burners from safely igniting, causing a small "explosion" upon startup. No, your furnace isn't going to blow up! But what happens when this occurs, especially if we're talking about an older furnace, is that it rattles the entire system enough that damage can occur to one extremely important component—the heat exchanger.
What To Know About Your Heat Exchanger
The heat exchangers in your furnace are clamshell-shaped metal components that house the hot combustion gasses when your furnace jets come on. The heat exchangers get heated up by the burners, and then air from your blower fan blows over the exchangers, picking up heat. Heat exchangers keep the gasses, like carbon monoxide (CO) safely within the system, to be expelled through a flue. This way, the air that enters your home has no interaction with the gasses.
However, when heat exchangers are damaged, and the atmospheric conditions in your home are just right, that CO can leak out into your indoor air. And CO poisoning is nothing to take lightly. In less severe cases, it can cause nausea, dizziness, lightheadedness, and more. In the worst cases, CO poisoning leads to fatalities. Clearly, this is nothing to mess around with!
You can, however, prevent running into this problem by staying on top of your annual furnace maintenance needs. Additionally, every home with any gas-powered appliances should also be equipped with CO monitors, too.
Reach out to our team to learn more about anything we discussed above, and to schedule your next maintenance of furnace repair in Warren, NJ. Contact Max Sr & Paul Schoenwalder Plumbing, Heating and Air Conditioning, A Corp. today!