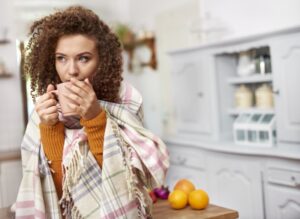 When your furnace breaks down, the last thing you want to do is think of fun or creative ways to stay warm, right? You just want your furnace fixed, and fast.
We get it! In an ideal world, you'd call up a heating professional and have your heater back up and running within 10 or 15 minutes. But even with our emergency services, this just isn't the case.
Now, you can prevent an unpleasant surprise like this. It's possible with professional services like preventive maintenance. Whether you have a gas or electric furnace system, you should be scheduling this maintenance service once a year. It allows our professionals to comprehensively clean, inspect, and adjust the components of your heater to make sure it operates as best it can. Maintenance tune-ups also extend the lifespan of the equipment and make it less likely that you'll have a surprise breakdown to begin with.
But, we're going to assume that if you came across this blog post, you weren't able to prevent your breakdown. We're definitely the team to call! However, in the meantime, we do want to offer some creative and potentially even fun ways to stay warm until we show up.
Cook a Meal or Bake Some Goodies
Have the ingredients on hand to bake cookies? Or perhaps you have a delicious meal planned for this week that you can cook on the stovetop, in your slow cooker, or in your oven. These are great ways to naturally heat up your home while your furnace can't.*
*Disclaimer: we are not suggesting that you use a cooking appliance as your main source of heat this winter! But if you have something to bake or cook anyway, then this is a great way to heat up your home.
In addition, if you don't have any pets or small kids in the home, you can leave the oven door open as it cools down when you're done cooking so the residual heat has a chance to drift into the rest of your home instead of staying primarily in the kitchen.
You can help distribute this heat even more by using your ceiling fans in reverse, too! Many homeowners don't know this trick, but there is a switch near the middle of your ceiling fans that enable you to change the direction of the fan blades so you can more evenly spread the heat in your home. This is also great advice for when your heater is functional, since it helps it work more efficiently!
Layer Your Clothes
We're going to assume that with the climate we live in, you're already pretty familiar with the concept of layering. But what if you did it indoors, too? Sure, it seems silly to sit on your couch watching TV with a parka on, but if it makes you comfier then isn't it worth it?
Also, it's important to remember that heat exits your body through your head and extremities, so don't forget a hat, fuzzy socks, and even gloves.
Established in 1912, Max Sr & Paul Schoenwalder Plumbing, Heating and Air Conditioning, A Corp. is your trusted resource for reliable heating repair in Short Hills and beyond! Contact us today.