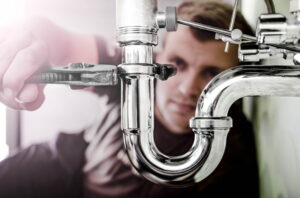 We've been in the home services industry for quite awhile now—over a century, actually! This means that we've seen what can happen when you have the wrong team or handyman looking over your plumbing system. Plumbing services are a tough job. Even something seemingly easy, such as unclogging a drain, can turn into even a bigger problem if not done correctly.
Still though, we understand the urge to hire a general "handyman" in order to save money.
Our expert plumbers are here to stress how important it is that you hire a licensed and insured plumber, instead. Sure, you might save some money upfront by trusting an amateur. In the end though, hiring the wrong team for the work can cost you far more than it's worth.  Read on to learn why it's so important to trust plumbing jobs to the pros.
The Importance of Proper Licensing
A New Jersey plumbing contractor license is required for most plumbing jobs throughout the state. This is true of most states actually, but can definitely depend on the scope of the job.
But only licensed plumbers should theoretically advertise work within the trade. It can be easy to believe that a handyman is "just as qualified," but the truth is licensing proves experience, ongoing training, and qualifications so that you know they're cut out for the job.
The Importance of Being Insured
Licensed plumbers should always be insured to work in the properties in your area. Generally speaking, licensing laws require that plumbing contractors have a minimum general liability insurance policy.
This protects them and you. If they become injured on the job or if they cause further damage to your property, without the proper insurance you would be financially liable for the damages. This isn't the case though with a properly insured plumber.
Does this mean you should ask for proof of insurance when you hire a plumber? Absolutely! Usually, the information will be on their website, but if you can't find it there, you have every right to ask for details.
The Importance of Professional Training
The fact is, professional and experienced plumbers go through years of training in order to be able to properly do the work you require. Under the careful eye of an experienced team, they learn everything involved with every facet of a plumbing system, and they learn how to not only repair plumbing issues but properly diagnose them as well.
The Problem with a General Handyman
First off, a general handyman is probably going to accomplish what you could have, but they're going to charge you for it. For instance, when dealing with a clogged drain, they may pour some chemical drain cleaner in. This is actually more harmful for your pipes than it is less! The chemicals in these "solutions" are highly caustic and will eat away at the plumbing system.
An amateur handyman may also choose the wrong tool to get the plumbing repair or inspection job done, thereby damaging your plumbing and leaving you in need of a professional anyway. There's no reason to leave your plumbing system to chance when you have the reliable, local plumbers on our team!
Established in 1912, Max Sr & Paul Schoenwalder Plumbing, Heating and Air Conditioning, A Corp. is your trusted resource for a reliable Chatham plumber. Reach out to us today.