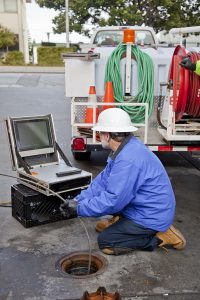 Let's talk about your sewer lines. This is one of the most important parts of modern plumbing, and yet not a lot of homeowners think about it very much. We wouldn't really expect you to, to be honest. However, never thinking about your sewer lines put you at risk of problems you may never think about either.
There's a part of routine plumbing maintenance that's become more popular in recent years, and that is video pipe inspection. Video pipe inspection involves the use of a video camera to inspect your pipes, and then we take the appropriate measures afterward to determine what can be done to resolve any problems we may find. Ultimately, a professional video pipe inspection could save your sewer lines, and save you a major headache. But how?
Tree Roots and Your Sewer Line
This is a much more common problem than many people realize. Tree roots can grow into the sewer line. Landscaping is unpredictable and as you likely know, plants and vegetation are attracted to water. This is particularly true for water from your sewer line. Even the smallest fissure or crack in your sewer line can be a siren's call for a tree root. But how do we find out if this is a problem impacting your plumbing?
With video camera inspection. With this method, we get a much better idea of the problem, so we can determine that is in fact what's going on, and come up with the right method for repairs, which may include:
Using a rooter to push through the roots or pull some of it back up.
Hydro-jetting (like power washing) to blast the remaining roots out through the sewer line to your drainage system.
Replacing or relining the sewer line. We may also recommend removing the tree that caused the problem to begin with, or rerouting your sewer line to avoid the landscaping.
The solution will depend on what exactly we find during your video pipe inspection.
Leaks or Corrosion in Your Sewer Line
Another reason to schedule video pipe inspection or ensure it's a part of your plumbing maintenance session is to check that your sewer line or another portion of your plumbing isn't leaking or corroding. Hopefully, if your plumbing is suffering from this problem you'll catch it early, but it doesn't usually come up until you notice unfortunate odors or puddles forming in your yard.
We can utilize video cameras to discover whether your pipes have sprung a leak, or if they've begun to corrode through. At this point, you'll need to replace the pipes, but you don't have to worry when you have our team on your side. We'll be honest about what we find and work with you to find the best solution.
Do You Need Video Pipe Inspection?
It's important to note, that while we're talking about video pipe inspection in the sense of a part of your plumbing maintenance, you can schedule this service at any time. If you suspect you have a problem—you have backed up drains, you hear water running when it shouldn't be, or your water pressure has dropped—then it's worth calling us for video pipe inspection and leak detection.
For professional video pipe inspection in Union, NJ, contact Max Sr & Paul Schoenwalder Plumbing, Heating and Air Conditioning, A Corp.