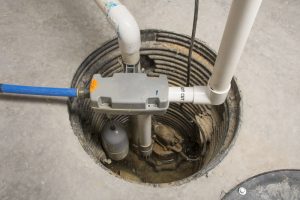 Sump pumps are a staple device in many homes across the country, but especially in our area. They help prevent water damage due to flowing from storms and plumbing mishaps, and go to work automatically, as they gather excess water in a pit (the sump) and then pump it out into either the wastewater system or a well.
People often don't think of massive home flooding as an issue, until it happens to them. Sump pumps absolutely have their place and your crawlspace and your basement can suffer from severe flooding that a simple drainage system won't be able to handle. Water in your basement can result in severe property damage such as rotting wood and so on. It also raises the humidity in your home and promotes the development of mold and mildew, If you don't already have a sump pump in place, we absolutely recommend having one installed.
If you do already have a sump pump in place, we encourage you to test it this spring to ensure it's ready for whatever the next few months might bring weather-wise.
"How Do I Test My Sump Pump?"
Testing sump pumps annually (some homeowners even choose to do it more often, sometimes quarterly), is important because they don't necessarily go to work every year. You could have a broken pump and not even know it until an emergency hits.
Fortunately, testing your sump pump is a relatively simple task. The first step is to check to see if it has power and turns on automatically. All you need to do is find the outlet where the sump pump is plugged in. Unplug it, and then plug it back in—like a "hard reboot" for a computer, almost. If the sump pump turns on, you're in good shape so far. But if it doesn't, you know something is wrong and you can go ahead and give our plumbers a call.
The next step is to pour water into the sump (the actual pit where the water collects). But first, be sure to clean it of any debris such as rocks, gravel, or leaves. You want the sump to be as clean as possible. Then, pour a few gallons of water down into the sump. If your sump pump is the pedestal model (positioned above the sump), then watch the float as the water raises it. This should cause the pump to turn on. If you have a submersible model, then the pump should turn on once the water rises above the intakes.
Remember, just because the pump turns on doesn't automatically mean it's working as it should. Keep watching the pump to make sure it actually removes all the water. If you discover that your sump pump isn't correctly functioning or operating as it should, please give our team a call.
Max Sr & Paul Schoenwalder Plumbing, Heating and Air Conditioning, A Corp. has been serving the HVAC and plumbing needs of Union, NJ residents for over a century. Contact us for quality sump pump services in Union, NJ.