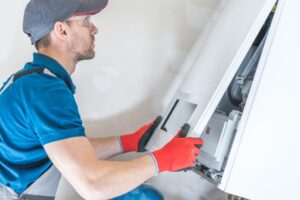 Modern heating systems are designed to last a very long time, but no heater can last forever, unfortunately, And when your heating system starts to show signs that it's about to fail, it's important to get a replacement as soon as possible. Far too many people wait and end up paying more month-to-month for inefficient heating operation, and potentially even facing a total breakdown.
Replacing the furnace or heat pump in your home at the right time can make the difference between a graceful transition into a new, more efficient, and affordable heating system, and a debilitating breakdown when you need your heater the most. Sure, we're venturing into spring now, but you know as well as we do that colder temperatures can still surprise us. Read on to learn the signs that it may be time for you to upgrade your heating system before it's too late!
Old Age
Do you know the age of your heating system? If you moved into your home and inherited it, you might not. But if you know it's at least 10-15 years old, then it may be time to start considering an upgrade. Even if your older furnace or heat pump isn't actively failing right now, today's heating system models are far more efficient than those of even just a few years ago.
When well maintained, a furnace or heat pump can have a useful service life of 10-15 years, maybe even more. Without maintenance, this lifespan could be a little less.
Your Heater Needs Frequent Repairs
If you find yourself calling for frequent repair services on your heater, then it's probably time to consider if you need to replace it altogether. What do we mean by frequent? Well, think of it this way–when professionally maintained each year, a furnace may need a repair once every couple of years. So, are you calling for repairs twice or more in a single year? If so, it's time.
Although you may think it's cheaper to just keep repairing the system until you run it into the ground, the truth is that a heater in disrepair can't possibly operate efficiently, and therefore will cost you more to run month-to-month.
If your next repair need is going to cost over half of what your heating system is worth, it probably makes the most economical sense to go ahead and get it replaced.
You Notice Uneven Heating
Now, this might be a repairable problem–but if it's combined with the two signs we mentioned above, it may be a sign that your furnace or heat pump can't operate as powerfully as it once did, and it's time to replace it.
In cases where it's repairable, it's typically because the problem is caused by a breach in the ductwork. If this is indeed the case, you'll still want to call us ASAP, as this problem will impact your air conditioning efficiency and power as well.
Established in 1912, Max Sr & Paul Schoenwalder Plumbing, Heating and Air Conditioning, A Corp. is your trusted resource for reliable heating replacement in Union, NJ. Reach out to us today.