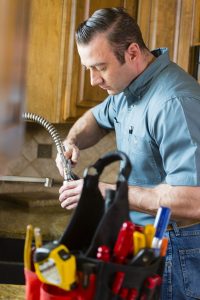 Can you believe that the holiday season is right around the corner? There are so many things for you to start thinking about as November begins—will you be taking any vacations? Did you have your heater maintained yet so it's ready to get you through the chilly temperatures? Are you hosting Thanksgiving or any other holiday parties this year?
This last one is what we're going to talk about today. Hosting holiday parties can be a whole lot of fun, but they can also be a whole lot of trouble if you aren't properly prepared. Part of that preparation is ensuring you avoid certain plumbing problems that are pretty common this time of the year. Keep reading to learn more.
The Formidable Clogged Kitchen Sink
This is probably the most common holiday plumbing problem we can think of—a clogged kitchen sink, or a jammed up garbage disposal leading to a clogged kitchen sink. With holiday meals often being cooked hurriedly, it can be very tempting to shove anything and everything down a kitchen sink drain, relying on the garbage disposal to break it out down neatly and effectively. People stick potato skins, eggshells, vegetable tops, and more, down without giving it much thought.
But as powerful as modern garbage disposal systems may be, they're certainly not invincible! If you put too much down that kitchen sink drain at once, it can easily clog up the system, leaving you with a messy and extremely inconvenient backup right in the middle of your holiday meal preparation.
Another frequent holiday kitchen sink problem we get called for is a clogged drain that happened due to a buildup of FOG—or rather, fats, oils, and grease. This type of problem is one that builds up over time, but once that FOG gets thick enough in your pipes, it will certainly cause a clog and a backup. The best thing you can do with FOG is set it aside in a disposable container, wait for it to cool down and congeal, and then throw it in the trash can instead of letting it congeal in the drains, instead.
Don't Put Your Bathroom in Jeopardy
Whether you're hosting holiday gatherings or overnight guests during this time of the year, your bathroom facilities can be overloaded with traffic and extra usage. Be sure to forewarn your guests—particularly those with small children—to not put anything down the toilet aside from toilet paper. You'd be surprised how many calls professional plumbers get in regards to trash going down the toilet and clogging it up.
Taking Care of Your Water Heater
The issues that happen with water heaters this time of the year are two-fold. Firstly, if you're indeed hosting overnight guests, it might be a wise idea to put a time limit on showers—the last thing you need is for someone in your family or one of your guest to get up and take a shower only to be greeted with chilly water, because their tank water heater was already used to capacity.
The second potential problem is how cooler temperatures affect the water heater—cold air causes expansion and contraction in water heaters and if your system is aging, corrosion can occur. The best thing you can do for an aging water heater is to get in touch with our team for an annual maintenance inspection—before you host any guests.
Established in 1912, Max Sr & Paul Schoenwalder Plumbing, Heating and Air Conditioning, A Corp. is your trusted resource for drain cleaning in Union, NJ.
Contact us today!