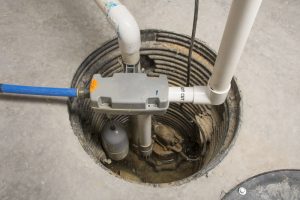 Can you believe that in some parts of the country, people have no idea what a sump pump even is? You practically have to know here—if your home is ever in a position that flooding is likely, the sump pump will be what saves your property, and your wallet.
There's no denying that an expertly installed and well-maintained sump pump is necessary for our homes, and with winter coming, we are approaching the time of the year where they're often needed. Is your sump pump ready to work if needed?
Testing and Maintaining Your Sump Pump
The good news about sump pumps is that unlike other large home comfort appliances, there is a simple home test you can do to check on the state of the system. There are many things you should check on a regular basis, in fact, particularly in the winter and spring.
We advise that you do a brief inspection after each storm that occurs, as well as these steps every three months:
Check the Condition of Your Sump Pump: Look for any clear signs of wear and tear. Examples of this can include signs that the cord is fraying or is not plugged into a proper GFCI outlet. Check as well for cracks in the case, and make sure that the pump is upright.
Add Water to the Basin: Add enough water to fill the top of the pit where your sump pump is located. The pump should activate right away.
Clean the Screen or Grate at the Bottom of the Pump: This component is where debris collects, and therefore will require occasional cleaning.
Check the Drains: The drains leading out of your basement may go to the sewer line, or to your yard. If it goes to your yard, be sure to check that the drainage can move freely, and there is nothing blocking the opening.
When Should You Call in the Pros?
The above-mentioned tasks you can certainly do on your own to get your sump pump ready to work. Propping it upright and securing it into place, plus clearing the drain, are all fairly simple tasks. However, there are some cases where you may need to call in a professional plumber, such as when:
You notice cracks along the sump pump cover, or other signs of system damage.
The sump pump shut down completely and not even resetting the circuit breaker will help.
Water isn't moving out quickly enough, and clearing debris from the drain didn't help.
"What if I Don't Have a Sump Pump?"
If you've gotten by without a sump pump so far and haven't had water damage from either a storm or a plumbing catastrophe, consider yourself lucky! But there's no reason to tempt fate like this—a sump pump installation is truly the best way to prevent water damage in your basement and expensive repairs as a result.
We have to think about not only rainwater from storms, but also snowmelt and potential plumbing problems.
In addition to a sump pump installation, it's a good idea to ensure that any important appliances and electrical outlets in your basement are at least a couple of feet off the ground.
Established in 1912, Max Sr & Paul Schoenwalder Plumbing, Heating and Air Conditioning, A Corp. is your trusted resource for comprehensive plumbing services in Milburn, NJ. Contact us today!