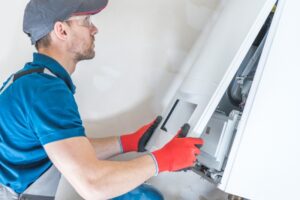 Winter weather is right around the corner, and chances are that you're going to use your heater a lot this season. That's just a part of living in our area, right? Well yes, but paying an arm and a leg to use that heater certainly shouldn't be a part of living in our area. But the fact of the matter is, that's what many homeowners are doing, through no fault of their own. Too often, we see individuals use their heaters inefficiently, and they end up paying more in energy costs, repair bills, and premature replacement costs as a result.
So what can you do to avoid all this? Do you need to spend a lot of money to avoid spending a lot of money? Not at all! There are some very cost-effective and even free things you can do to boost efficiency and lower costs. Read on!
Upgrade Your Thermostat
There's a small component you can upgrade to boost furnace or heater efficiency that not a lot of people consider—the thermostat. Yes, this may seem like such a minor component, but we assure you it's not. It may be small, but it's essential to the functionality of your heater.
It's the device through which you communicate with your heater—basically the brain of the system if you will. Upgrading to even the most basic digital thermostat, or even better a programmable thermostat, can help you start enjoying more affordable heating (and cooling)!
Utilize Weatherstripping
The heat from your furnace can escape through cracks in your doors and windows, meaning you're losing energy that you are paying for anyway. Consider investing in some weatherstripping and caulking to seal up your doors and windows, to make sure that the heat in your home stays inside your home.
Use Your Ceiling Fans!
Homeowners often don't realize the great benefits of their ceiling fans in the wintertime. Sure, in the summer you can use these devices to create the movement of air that helps your body cool down faster. As a result, you're able to turn up the thermostat to use your air conditioner more efficiently.
In the wintertime, you can actually reverse the direction of the ceiling fan blades, using a switch, which pushes down heated air from the ceiling for faster distribution of warmth. You wind up helping your furnace's efficiency this way.
Schedule Routine Heating Maintenance
Scheduling routine tune-ups for your furnace is the best way to ensure that it works as effectively and efficiently as possible, for as long as possible. During your maintenance tune-ups, our technicians will fully inspect your furnace for any potential repair needs, making any adjustments necessary, and thoroughly clean the system inside and out.
These steps help ensure that your heater works as well as it can—in other words, as efficiently as it can. Maintenance is an HVAC service that should be scheduled once a year for a furnace, or twice a year for a heat pump system since it's used on a year-round basis.
Established in 1912, Max Sr & Paul Schoenwalder Plumbing, Heating and Air Conditioning, A Corp. is your trusted resource for reliable Maplewood, NJ heating services. Reach out to us today.