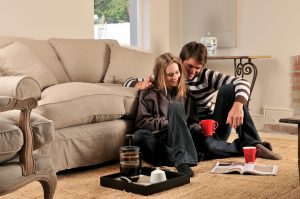 Choosing the latest and greatest technology when it comes to something like a cell phone or a smart TV is a matter of convenience and, let's admit it, fun. You picked out that smartphone with the high megapixel camera because you love showing off your awesome photos, or you got that new TV to watch the big game in a way you never have before.
However, when it comes time to pick out a new furnace, you might not be so excited to go for the latest and greatest technology. After all, you won't be looking at the furnace, and heat is heat, right? We certainly don't think so. While it may not be as flashy as some of the other technology in a home, a new furnace with the latest features can certainly help you feel more comfortable and save money. It's worth it!
Efficiency Rating
The first feature to seek out as you're comparing furnaces is a high-efficiency rating. This is represented by the AFUE rating, a number which shows how much energy that your furnace takes in is actually used up for heating. A higher percentage means a more efficient heater, and in a cold climate, you'll save the most with an AFUE rating of 90 or higher. But this isn't the only factor to consider.
Dual-Stage Heating
Most natural gas heaters work in a similar way. Either an electronic spark or a pilot flame lights the burner, which then stays heated to provide heat to the air flowing by the heat exchanger. The furnace turns on and off to moderate temperatures, but the burner is always at the same setting: 100%.
A dual-stage heater does not always have to be heating at 100%. When temperatures only needed to be raised slightly, the dual-stage heater reduces heat levels in order to save fuel.
Variable Speed Fan
Most blower fans can only move at one speed, too: you guessed it, 100%. But with a variable speed fan, this doesn't always have to be the case. Fan speeds will automatically adjust to save energy—in both winter and summer! In addition, a variable speed fan is much quieter when running at a lower speed, as it does most of the time.
Smart Thermostat
A smart thermostat allows you total control over your air conditioning system. You'll want to show off to your friends how you can control the temperature of your home from work, how much money your saving, and how easy it is to understand how to have the most efficient home possible. As long as your home has a Wi-Fi connection, you can save!
Why We've Saved "Price" for Last
Now, of course, your budget may be limited in terms of what you can purchase upfront. However, financing may be available with approved credit, and it's worth it in the end. Price shouldn't be everything when it comes to a furnace, as you save more in the long run with a high-efficiency system and all its upgrades.
For more information about furnaces in Union, NJ, contact us today! Max Sr & Paul Schoenwalder Plumbing, Heating and Air Conditioning, A Corp. has been heating homes for over 104 Years.