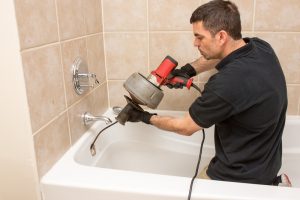 When you have a clogged drain, it's very easy to look for a quick fix and hope for the best. Sometimes, that quick fix works in the moment—but the question is, will the solution last?
There are times when a little DIY work around the home can quickly resolve an issue. But then there are other times when it's better to leave the job to a pro. Drain clogs really can fall into either category. DIY attempts like using a plunger to release a superficial clog are okay, but if your choice is to use chemical, store-bought drain cleaning, we'd have to advise you to forgo the DIY method. Read on to learn why!
Chemicals Damage Your Pipes
First off, you should know that the chemical drain cleaners you get at the store are strongly discouraged by most reputable plumbers. While we're not opposed to DIY methods to clean a smelly sink drain, for actual clogs you'll need something different.
The chemicals that "eliminate" clogs are only formulated to dissolve certain kinds of clogs, first off. They can actually push clogs further down your drainpipes. Even worse, they damage the lining of your pipes and can lead to their early demise. And we haven't even mentioned how they can be toxic to your pets or children!
When Plungers Aren't the Answer Either
We typically recommend trying a plunger if a single drain is superficially clogged. Remember, you might have to use some force, get a really good seal, and keep trying a few dozen times. But this simply can't work every time.
The source of the clog might be firmly lodged in the drain, and further from the drain opener than the force from a plunger can reach. At this point, you'll need a professional with the right tools to relieve and actually eliminate your clog.
Using a Professional Drain Snake
You can find a basic hand-cranked drain snake at your local hardware store. But even this might not be enough to reach and remove your clog. It may not be strong enough to push through a clog to pull it back out.
Professional drain snake augers are typically motorized, meaning they can push through just about any clog with greater force. Many of these professional-grade drain snakes even have rotating heads that can cut through tree roots.
The Power of Hydro-Jetting
Hydro-jetting is another drain cleaning method we employ. It involves the use of an omnidirectional auger that sprays high-pressured water out to get rid of the worst types of clogs. It can even prevent clogs from forming again.
Professional methods are better because they're long-lasting. Where you can likely get by with professional drain cleaning once a year—as long as you take care of your plumbing system—you'll find that you'd have to use chemical drain cleaners every few months when the clog just builds back up. And in the meantime, those chemicals will eat away at and corrode your plumbing system.
Established in 1912, Max Sr & Paul Schoenwalder Plumbing, Heating and Air Conditioning, A Corp. is your trusted resource for reliable drain cleaning in Union, NJ. Reach out to us today.