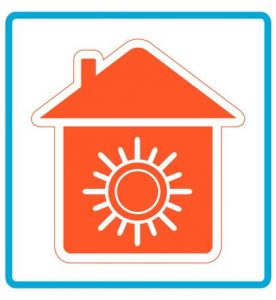 We've already had a few surprisingly warm days in New Jersey, and it's only going up from here (after the rain clears out, of course). Summer is nearly here, and it had its unofficial start on Memorial Day, so it's time to think about how warmer weather may affect you and your home.
Take these steps to prepare your home for heat. It's worth it in the end, when you are able to save money, stay more comfortable, and prevent a major headache in the hottest of months.
1) Schedule a Maintenance Appointment
The first and most important thing you can do for your home's air conditioning system is to schedule a maintenance appointment with a qualified air conditioning technician. This annual appointment helps to improve efficiency, reduce breakdowns, and keep your air conditioner in the best shape possible—for longer.
2) Change Your Filter
This is something that should be done each and every month—but especially before the summer is in full swing. A dirty air filter has a bigger effect on the health and wellbeing of your AC unit than you may think! Airflow throughout the home is reduced, resulting in higher monthly bills, poor AC performance, and a lower lifespan for your system.
3) Upgrade an Outdated Thermostat
Do you still have to turn a dial or move a switch from side to side to use your thermostat? It's time for a change. Today's thermostats are fully programmable to provide a schedule that allows your AC to work hard when you need it and save money when you don't. You can even get a smart thermostat to control temperatures right from your phone!
4) Seal Air Leaks in the House
Air leaks around windows and doors make it more difficult for an air conditioner to cool your home. Seal these off with caulk or weather-stripping so that your air conditioner does not need to use more energy than it should.
5) Test the Ducts
The ducts are the ventilation system for your home—the pathways that allow for air to recirculate throughout the house. A problem occurs when your ducts spring a leak, allowing air to move out behind the walls or in the attic, instead of moving straight out to the rooms of the house. That means you pay extra to cool spaces you are not even using. Only a technician can truly test the ducts and detect leaks, but you should take note of an increase in monthly costs or rooms that are warmer than others.
6) Check for Plumbing Leaks
Finally, you should check for plumbing leaks throughout the home. A plumbing leak is likely to happen in the spring and summer months, after winter freezes have thawed out and all that wear and tear on pipes is more likely to take a toll. Warm spots on the floor may indicate a slab leak, as does the sound of running water. You should make note of any drop in water pressure, and call in plumbers with the right tools for a plumbing inspection.
Max Sr & Paul Schoenwalder Plumbing, Heating and Air Conditioning, A Corp. offers air conditioner services in Union, NJ. Over 100 years of service!