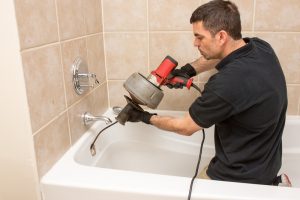 Drain clogs are one of those unfortunate things that just about every homeowner has to deal with at some point. But they are also one of those drain issues that most people deal with incorrectly. When a drain clog forms in the average home, it is instinct to reach for some type of store-bought drain cleaning solution to manage the problem. This is actually not a great way to deal with it, which we'll get into more below.
The Side Effects of Store-Bought Solutions
The reason that store-bought solutions are so popular is because of their convenience, but the reason they're able to clean out clogs is that they use corrosive chemicals to do it. These chemicals will eat through most clogs, all right. However, they won't stop there.
Prolonged use of chemical drain cleaners will eventually degrade your plumbing pipes, to the point where they may need to be replaced years sooner than they otherwise would have been. These chemicals aren't good for you either. Even just the fumes can cause respiratory distress and eye irritation.
The Advantages of Hiring a Pro
Professional plumbers are very well aware that store-bought "solutions" do more harm than good. This is why we don't use corrosive chemicals when we conduct drain cleaning services. Rather, we use a variety of more effective methods that will depend on the severity and location of your clog. For instance, we may use drain snaking, which involves the use of an auger on a long cord to drill through the clog in the pipe. This is the oldest, and often easiest, method of clog removal.
Hydro-jetting is another drain cleaning method, which has been growing in popularity. It is very effective in removing waste buildup in your drain pipes. A hydro-jet is comprised of a thin hose with an omnidirectional sprayer head attached to it. This hose sprays a high-pressure stream of water into the pipe, hitting all areas of the pipe walls and blasting away any waste buildup out of the system. This method removes the current clog and makes it harder for clogs to build up in the future. However, there are some pipe materials that aren't able to withstand the pressure of hydro-jetting, which is why there is still some variance in what solutions we use.
Generally speaking, unless your clog is at the surface of your drain and you can relieve it with a plunger and a bit of elbow grease, it's probably going to be a good choice to call in a pro. We'll be able to clean out your drains efficiently and effectively. You won't have to worry about not getting the whole clog, as we'll get the job done right the first time. Be sure to contact our team if you need a drain cleaning, suspect you have a clog building up, or want to schedule plumbing maintenance to help avoid problems.
Max Sr & Paul Schoenwalder Plumbing, Heating, and Air Conditioning, A Corp. is your trusted resource for expert plumbing services such as drain cleaning in Union, NJ, having been in the industry for over a century. Contact us today!