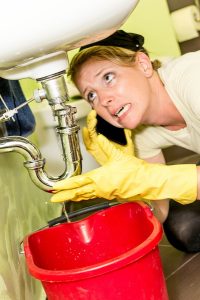 We probably don't have to tell you how integral to the functionality of your home your plumbing system is. Still though, even though you know this, you probably don't think about this home component very much—that is, until something goes wrong. The fact of the matter is, things like leaks, clogs, and other plumbing issues very rarely happen at a "convenient" time, and when they do occur you may very well need the assistance of a professional Kenilworth emergency plumber.
But how do you know what constitutes an emergency? When does a problem need to be addressed right away and when can it wait? This, of course, is dependent on your specific situation. For instance, if you have a drip coming from a faucet in the home, you're not going to be concerned, but if water is gushing out of a burst pipe on your kitchen floor, then you have an entirely different scenario on your hands. So, what do you do?
Shut Off the Water
Every home is equipped with a main water shut-off valve, which cuts off the water supply to the whole house. Every family member should know where it is and how to use it. The moment there's a problem with your plumbing system, shutting off the water will keep the issue from getting worse.
In many cases, individual plumbing outlets will have their own individual shut-off valves that cut off water to them while keeping the water running in other parts of the home. If you're certain of where the leak or problem is coming from, you may be able to shut it off at the source rather than shutting off water to the entire home.
Decide How Long You Can Wait
In most cases, an emergency plumbing call depends on the extent of the problem and whether or not you can wait for regular business hours. If the damage is localized, for instance, or if the problem takes place within a few hours of when a plumber can make a regular call, then you may choose to wait, for your convenience.
But if a plumbing problem brings your whole home to a halt, or if you'll need to wait an entire weekend to have a plumber come during normal business hours, then we definitely think you should call for emergency plumbing services.
Emergency Services for Your Peace of Mind
In some cases, a plumbing emergency call isn't necessarily warranted by the specific circumstances of the leak/clog/etc. but rather to help you rest easier and not worry so much—and that's okay! Plumbing issues can certainly be serious, impacting not only the pipes themselves but causing property damage to your home.
We understand if you don't want to sit around and wait for a plumber to show up—calling for professional emergency services can give you a peace of mind that the problem will be dealt with promptly and thoroughly.
For quick and effective plumbing services in the Union, NJ area and beyond, contact Max Sr & Paul Schoenwalder Plumbing, Heating and Air Conditioning, A Corp. We've been serving our customers for over 104 years!