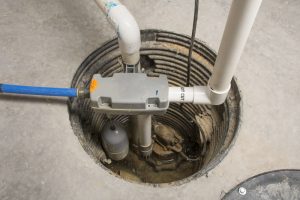 If you have a basement and live around Scotch Plains, then having a sump pump system is essential. Sump pumps are tasked with preventing water damage due to flooding and automatically go to work as excess water is collected in the sump. The water is then pumped out to either a wastewater system or a well.
You might not think that you need such a preventive device, but with the rainy season here it's vital that you have this system professionally installed and serviced, and that you test it every quarter or so to make sure it's still in good shape and functioning as it should. How do you do this? Read on!
How to Test Your Sump Pump
Testing your sump pump is more about checking that everything is in good shape and that it actually activates when it's meant to. In addition to quarterly checks, we recommend that you test your sump pump after each big storm you have–at least any that bring water into your basement. You can do this by:
Checking for Visual Sump Pump Damage: Look for any apparent signs of wear and tear in or around the sump pump. An example of this could be a frayed cord, or that the sump pump isn't plugged into a proper GFCI outlet. Look for cracks in the case and see that the pump is upright.
Add Water to the Sump Pump Basin: Add just enough to fill the top of the pit. You should hear and see the pump activate immediately.
Clean the Screen or Grate at the Bottom of the Pump: Over time, this can collet debris and require cleaning out from time to time.
Check the Drains: The drains leading out of your basement either go to the sewer line or to your yard, where you hopefully have a good yard drainage system set up. If the latter is the case, check that all the drainage can move freely, and there is nothing blocking the drain openings.
When Is It Time to Call the Pros?
While there are steps you can take on your own to test and inspect your sump pump, like making sure it's upright and securing it into place, you might need to call a professional plumber if:
You notice cracks or any other signs of damage along your sump pump. 
The sump pump shuts down entirely and the circuit breaker doesn't reset it. 
Water doesn't move out quickly enough, and clearing debris from the drain doesn't help. 
If you think you need help with your sump pump or you're about ready for a sump pump replacement, please don't hesitate to contact our team. We can go over your options with you–for instance maybe you've always had a pedestal sump pump but we know a submersible sump pump will benefit your home–and ensure you make an informed decision about your plumbing needs.
Established in 1912, Max Sr & Paul Schoenwalder Plumbing, Heating and Air Conditioning, A Corp. is your trusted resource for reliable Scotch Plains sump pumps and much more. Reach out to us today.