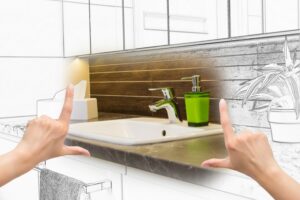 If you've come across this blog post, there's a good chance that you have a bathroom that doesn't look the way you'd like it to. Or perhaps it's not as functional as you think it can be. Whatever the case, you've come here because you're thinking of starting a bathroom remodel. As the most used room in your home, it's easy to see why—a good remodeling job can give you a brand new space after all!
But, there are things that go wrong if you choose to not work with a qualified and experienced plumbing professional. The level of attention you have to give to planning and prepping for your remodeling job will make a huge difference in the results. So, our #1 bathroom remodeling tip is to hire a professional to help with the job! Otherwise, you can run into a number of problems that will leave you needing to call in a professional plumber anyway. Curious as to what they are? Read on.
You Might Not Properly Measure for Toilet Placement
This seems easy enough—don't all toilets come in the same size? Well, no.
Your home's bathrooms have a specific toilet rough-in, which is the measurement that determines the distance between your toilets' bold caps to the finished wall. There is a standard today, which is 12 inches. But depending on how old your home is, yours may vary.
You Might Not Properly Vent the Drains
Ventilation is essential for so many functions of your home, and your plumbing is no exception. For instance, your sink trap can get sucked dry. As a result, it will not function as a barrier between your sewer system and your bathrooms. You can probably envision where we're going with that—it's not pretty.
You Might Not Slope the Shower Floor Correctly
If the right slant isn't applied to the masonry that makes up your shower floor, the water won't be able to drain properly, and you'll have perpetual standing water in your shower at all times. This will lead to unhealthy mold and mildew development.
As illustrated above, when homeowners choose to forgo professional service for their bathroom remodeling job, there are a number of things that can go wrong. This is not an attempt to scare you into hiring a professional, but an encouragement to at least consult with one of our trained and experienced professionals before beginning work. This can save you headaches and money in the future.
One last thing to keep in mind when investing in a bathroom remodel, whether you do hire a professional or decide to try it on your own, is that it will pay to consider practicality before aesthetics. Too many individuals let the desire to have a great looking bathroom outweigh the practical needs of the space, and changing your brand new fixtures and plumbing can turn into an expensive job.
To get in touch with a professional plumber in Warren or one of the surrounding areas we serve, contact Max Sr & Paul Schoenwalder Plumbing, Heating and Air Conditioning, A Corp. today. Established in 1912, we're your trusted resource for all things HVAC and indoor air quality related throughout Union, NJ and beyond.