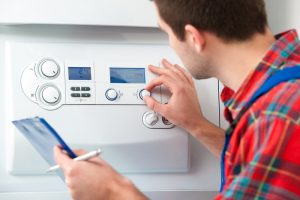 "What do you mean by that?" you might ask.
Well, what we mean is, rather than waiting for a sudden need for boiler service in Union, NJ, such as an emergency repair, you should be proactive and pre-emptive, and schedule boiler maintenance soon.
"Wait, does my boiler really need to be maintained?"
It may seem like a simple enough system—way less complex than a furnace, for example. Boilers are often found in homes that don't have a network of ducts, since they operate by circulating hot water through pipes to terminal points such as radiators and baseboard heaters, where the heat then radiates into the rooms of your home. And yes, boilers have fewer moving parts than furnaces or heat pumps so they wear down slower and will require fewer repairs over their extended lifespan.
But that doesn't mean they won't ever wear down or need a repair!
Why Your Boiler Needs to Be Maintained
First off, what fuel are you using to power your boiler system? If you're like most homeowners, it's probably natural gas. There are electric boilers, which are more expensive to operate and less popular as a result—these need maintenance too of course, but our point is that if you have a gas-powered heating system, one of the reasons you need maintenance is for safety.
Allowing a gas-powered appliance of any kind to go without professional checkups can lead to that appliance becoming a hazard due to gas leaks or a cracked heat exchanger. This is not a risk worth taking. If your boiler is maintained on an annual basis, it has the best chance of operating without ever creating these health and safety issues.
A Different Type of Wear and Tear
Another factor to keep in mind is that boilers can suffer from exposure to water, unlike a furnace or heat pump. Boilers are constructed in a way to resist corrosion as long as possible, but neglect may allow rust to set in early. If that rust is on the heat exchanger, our professionals can replace this component. If the rust is within the boiler though, chances are you'll have to replace the tank.
The only way to tell the difference is by contacting a professional to conduct maintenance and assess the state of your boiler to begin with. Boiler maintenance helps prevent corrosion and keeps your boiler running for many years—potentially even two decades or longer.
Another potential problem boilers can face is leaking. Our technicians will always check for leaks along the tank and pipes when we do maintenance!
Maintenance also takes care of flushing—a service that may be needed due to the development of sediment along the bottom of the tank. This won't need to be done every year, but our maintenance professionals will let you know when it's necessary.
For over a century, Max Sr & Paul Schoenwalder Plumbing, Heating and Air Conditioning, A Corp. has been the preferred choice for homeowners looking for reliable boiler service in Union, NJ. Contact us today!