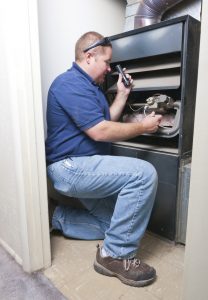 This year, don't waste your time making repairs for your home furnace in the middle of winter, when you need it most. You might be surprised to hear that a large portion of the problems we see with furnaces in the colder season are largely preventable. Furnace repairs are frustrating, and in some cases, they are also dangerous. We want to help you avoid them at all costs.
We have seen firsthand that preventative maintenance is key to prolonging the life of your furnace, lowering your bills, and, possible, preventing repairs altogether. Find out our expert tips for preventing your furnace from breaking down or operating poorly below! For more, feel free to reach out to our team anytime.
#1: Change the Air Filter
The first piece of advice we have is one we give out all the time: changing your air filter is the easiest way to maintain your furnace! Your furnace sucks in air from the home before it can heat the air and move it through the ductwork. And the furnace filter ensures that the air coming through is clean (and won't damage the furnace).
When the filter is dirty, though, it cannot properly do its job. Instead, it actually blocks air from flowing through to the filter, and that can make the furnace suffer in a number of ways. That lack of airflow contributes to…
Poor heating efficiency (and higher bills)
Discomfort
A greater chance of furnace repair
#2: Schedule Routine Maintenance
Our biggest piece of advice: it's so important to schedule maintenance for your furnace before the season begins. Maintenance for a furnace consists of a complete inspection, along with a tune-up to get the parts running as smoothly as possible. And that furnace is crucial for your health and wellbeing.
Today's furnaces are certainly safer than they've ever been before. But that doesn't mean you can feel 100% positive that flue gases won't leak into the home. Carbon monoxide leaks are tough to detect, so it's important you know you aren't at risk early in the season.
Maintenance helps to prevent repairs in two ways. First: you'll find out about problems sooner so that you can schedule repairs before the system breaks down. Second, a tune-up helps to get the parts in order, lowering the chances of repairs!
#3: Don't Wait for Service
Finally, the way to avoid large repairs is to make smaller repairs sooner. If you notice something wrong with your furnace—no matter how small the problem seems—you must call a technician at the first sign. This includes strange noises from the furnace, poor heating ability, or trouble starting up the equipment.
A drop in temperatures can turn into a larger problem with time. The longer you run the heating system, the worse the issue can get. Scheduling repairs early is the best way to prevent air conditioning repairs from spiraling out of control.
For quality furnace repair in Union, NJ, contact the heating experts at Max Sr & Paul Schoenwalder Plumbing, Heating and Air Conditioning, A Corp.