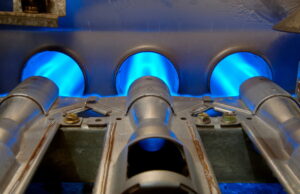 One of the goals most homeowners have is to save money on their heating and cooling costs. And we get it! After all, using your furnace can get expensive, especially considering how much you actually need it in our climate. The good news is, there are a lot of ways you can use your furnace efficiently and spend less. One of these ways is to completely shut down the system during the late spring and summer season, when you don't need it.
What Does It Mean to Shut Your Furnace Down for the Season?
You may think that shutting down your furnace for the season is as easy as setting the thermostat to "cooling" mode and calling it a day. But this isn't actually shutting down the furnace, it's just turning it off.
Our HVAC pros actually recommend fully shutting down your furnace once temperatures start warming up. And by that, we mean you should cut off the gas line and/or electrical power going to the furnace so that it doesn't waste any energy throughout the warmer months.
How Would Your Furnace Waste Energy When Not in Use?
Do you still have a furnace that uses a pilot light to ignite the burners? The pilot light wastes energy during the summer. You don't need your furnace to turn on suddenly, so there's no reason to keep the pilot light burning gas all this time. Be sure to shut the actual valve of the gas line going to the furnace off, and the pilot light will go out and stay out until you reignite it next fall. This can save you considerable money throughout the years! Plus, cutting off the gas supply to the furnace is a good safety measure, too.
Gas furnaces also have electrical components, like sensors. These sensors will needlessly draw on power throughout the spring and summer seasons. We suggest that you shut down the electrical power going to the furnace through its circuit breaker panel. This can also prevent the furnace from cycling on automatically due to someone playing around with the thermostat settings or due to a brief cold snap.
"Can I Just Partially Shut Down My Furnace?"
If you have a central air conditioner as part of your overall HVAC system setup, then you should not turn off the electrical power to the furnace through its breaker. In a central HVAC system with both a furnace and an air conditioner, both use a couple of the same components, like the blower fan and other electrical components.
One Last Step…
Or rather, the first step you should take before shutting down your furnace for the season—take care of any repair needs the system has now. This will make it more likely that your furnace will work as it should next fall when you need it again.
Established in 1912, Max Sr & Paul Schoenwalder Plumbing, Heating and Air Conditioning, A Corp. is your trusted resource for reliable Madison, NJ heating services and more!