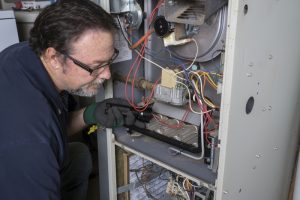 Temperatures aren't quite cold enough to start using a furnace on a daily basis just yet, but you may have already tried turning yours on to discover it wouldn't start at all. With cooler weather right around the corner, this is certainly not a problem you want to have to face, and certainly not one you can sit around waiting to have repaired.
This is actually one of the most common service calls that professional HVAC technicians get, in addition to a furnace that won't stop running (which we'll get to below). Keep reading to learn more about what's happening when your furnace behaves in this way, and give us a call for reliable heating services!
Why Your Furnace Won't Turn On
There are a few different issues that might be at play here. Some are more serious than others—for instance, a really minor problem that isn't actually a problem with the actual furnace at all, is a thermostat issue.
First, we encourage you to check your thermostat and ensure that it is actually in heating mode. Next, check to make sure there isn't a problem with the wires connecting the furnace to the system—after making sure the circuit breakers to the system is off first, for your safety!
Speaking of wiring and electrical power, while you're checking the circuit breaker panel, see if you have a tripped circuit breaker—a lack of power will of course prevent your heating system from coming on. There might even be a power outage in the neighborhood, or maybe your pilot light has gone out.
But what if none of these above-mentioned issues are afflicting your furnace? Well, then you may have a more serious issue on your hands. Hopefully, you had heating maintenance done already, which will eliminate the risk of most major furnace failures. If not though, or if you're concerned about your furnace performance, then it's time to call in the pros.
What If Your Furnace Won't Turn Off?
Some calls we get are in regards to a furnace that just keeps running and doesn't cycle off. This could be due to a thermostat problem—a malfunctioning thermostat might not be able to accurately signal to the furnace that your desired temperature has been met and it's time to shut down.
Another potential issue could be that you have the temperature set too high, or your furnace air filter is too clogged up with dirt, dust, and debris. Either of these problems could prevent your furnace form shutting off, since it's working to meet your desired temperature when it just can't. Check your temperature setting as well as your air filter, and if neither of these seems to be the cause of your continuously running furnace, give us a call.
Keeping Up on Furnace Maintenance
The best way to prevent the worst of furnace repair needs is to keep up with your annual maintenance appointments. It's during this service that our HVAC technicians will fully inspect and clean your system, making necessary adjustments and recommendations for repairs as we go. So long as you are having this service done annually, you should be able to keep your furnace in good working order throughout its lifespan.
For over a century, Max Sr & Paul Schoenwalder Plumbing, Heating and Air Conditioning, A Corp. has been providing reliable heating services throughout Union, NJ and beyond. Contact us today to schedule yours!