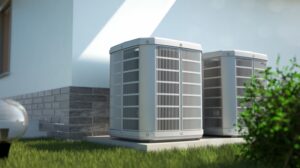 We've said it before and we'll say it again–there is no such thing as an air conditioner repair need that crops up at a convenient time. Still though, you might be wondering why you can't just wait until next year to address any AC repairs you might have right now, since fall and winter are right around the corner anyway.
Well, we still have some warm days ahead, for starters, and the last thing you need is an unreliable air conditioner to break down on you when you need it the most. Plus, letting an air conditioner sit in disrepair all season long could lead to a breakdown next year when you need it to function reliably!
Read on as we uncover some of the most common signs that you need AC repairs. 
Odd Sounds
Air conditioners are supposed to work relatively quietly, without any strange sounds and noises. If you hear some sort of banging, hissing, grinding, or rattling sounds coming from the unit, it is a sure sign that there is something wrong with the AC. You may think you're only just imagining the sound, but is this really something you want to leave to chance?
Odd sounds can be caused by anything from an aging motor losing lubrication and blower fan problems to loose components or a refrigerant leak.
Higher Than Average Energy Bills
Take a look at your utility bills. Are they a lot higher than what you were paying this same time last year? How about in comparison to what your neighbors are paying? If those energy bills are significantly higher, it's a sign that something isn't working as efficiently as it could, and it may very well be your air conditioner. After all, your home's HVAC systems account for about 50% of all energy use in your home.
A Lack of Cool Air
Have you noticed that your air conditioner seems to be operating, and yet the air coming out of the vents isn't cold? Maybe it's lukewarm or even hot. This is the obvious sign of a problem, and never something to just brush off. If this is happening in all your rooms, then it could be the sign that you have a refrigerant leak–when there isn't enough refrigerant your air conditioner won't actually be able to cool your living space adequately.
Alternatively, you might be looking at damaged ductwork, if it's just in a room or two. Breached ductwork can account for about 30% of air loss–that's conditioned air that you are still paying for!
Airflow Decline
Lastly, weak airflow coming from your vents is another common symptom that your air conditioner isn't working as it is supposed to. This commonly occurs due to problems with the fan or blockages in the air ducts that prevent the air from flowing smoothly.
A clogged air filter or a broken motor that runs the fan are possible culprits. Having these problems professionally managed will get your AC system back in great shape!
For professional air conditioning repair in Maplewood, contact Max Sr & Paul Schoenwalder Plumbing, Heating and Air Conditioning, A Corp.–Established in 1912.