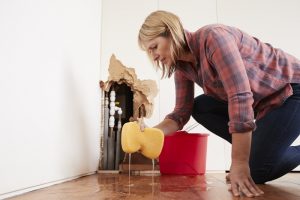 When there's an issue with your home's major systems, some are easier to ignore than others. A hot shower that turns to lukewarm by the end probably isn't going to send you on a search for an emergency plumber in Union, NJ. But a toilet that seems like it's about to overflow should definitely be a cause for concern.
Let's go over 4 common plumbing problems that warrant calling a professional plumber for hasty repairs. Not only do these things present health and safety hazards, but they have the potential to become major problems if they're not addressed as soon as you notice something is amiss.
1. No Water
A lack of water coming from your taps is definitely something you can't let continue. You rely on water to wash your hands, prepare meals, and flush your toilet. Trying to make do without running water won't last very long.
There are a few things you can check to make sure the issue is something that's affecting more than just your home. If you're not getting water from any of the taps, check with a neighbor to see if they're having the same problem. If so, there's probably a water shutoff in your area. Check with the municipal water district.
2. Clogs
That slow drain in your kitchen sink, shower, or bathroom sink isn't a cause for concern–yet. However, those slow drains are usually caused by a clog. Once you have a clog, the issue can escalate.
Clogs are usually made of organic material such as fat, oil, soap scum, dirt residue, and a whole slew of other things. The problem with a clog is that once there's an impediment, all that organic matter causes other things to "stick" to it. That's how a minor clog can become a major blockage. Call for a prompt plumbing repair to avoid a completely backed-up drain.
3. A Toilet That Isn't Draining Properly or Overflowing
An overflowing toilet is a major problem because it's a health and hygiene issue. No one wants to deal with wastewater contaminating the floor of your bathroom or even worse, if the backflow ends up extending beyond the confines of the bathroom. Call us immediately for an overflowing toilet or one that isn't draining well.
5. Leaks
A leaky pipe or fixture can be a home's worst nightmare. If you've noticed a leak anywhere in your home, that's definitely considered a plumbing emergency. Don't assume that just because a leak seems minor or that you've managed to contain it, it won't become a bigger problem. A small leak doesn't stay small for long. You don't want it to get worse over time.
We have been in business since 1912. We are licensed master plumbers and we are available when you need us. Don't hesitate to call us for same-day emergency plumbing repair for residential and commercial properties.
Established in 1912, Max Sr & Paul Schoenwalder Plumbing, Heating and Air Conditioning, A Corp. is your trusted resource for reliable emergency plumbing repairs. Reach out to us today.