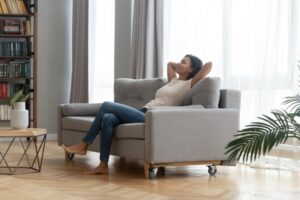 It would be really easy for us to say, "just buy an air purifier!" and call it a day. However, you deserve more of an explanation than this, and also that's not super helpful. The thing is, there are a number of factors that can impact the quality of your indoor air, and there are a number of products that can help improve the air you breathe indoors.
Indoor air quality is a bigger deal than most people realize, no matter what time of the year it is. In fact, your indoor air quality can be worse than the quality of the air outdoors, without the right products in place, And today, we're going to talk about one product in particular. A UV air purifier!
What Is It That Air Purifiers Do?
You've likely heard of an air purifier before. Perhaps you think that's what is inside your air conditioner. That component is actually an air filter though, a fiber mesh meant to trap pollutants before they have a chance to get inside your HVAC system and harm its components. There are more powerful air purifiers on the market, and we could write a whole separate blog post on whole-house air filtration systems. But now, we're discussing air purifiers. 
The most popular type of air purifier that people see in local homes is the ionization air purifier. Ionization systems charge particles and draw them down into the system, where they can later be cleaned off. These are very effective systems and are a great choice for many people, but it doesn't help against contaminants that are lurking in your ductwork, like mold or mildew. For this, you'll need a UV air purifier.
A UV air purifier, also referred to as UV germicidal lights or simply UV lights, is a set of lamps that send out low-frequency ultraviolet (UV) radiation, hence the name! Yes, this is the same type of radiation that comes from the sun, and no it's not dangerous to people or pets. It is harmful, though, to single-cell organisms like bacteria and viruses.
"So, UV Light Is Not Dangerous?"
No, not this type of UV light. We do understand the confusion–after all, UV radiation is dangerous when you're outside in the sun all day. However, the level of radiation present in this air purification product won't create any health problems for your home. In fact, you won't even see them as they're installed directly into your ductwork–out of sight.
UV lights are powerful enough to eliminate microbes and any other microscopic organic pollutants moving through your ductwork. This means that anything lurking in your ductwork that could otherwise reach your airflow won't be able to.
It's important for you to remember that just like with any other indoor air quality products, for your system to work as well as it should, it needs to be installed and maintained by trained professionals, like the folks on our team.
Established in 1912, Max Sr & Paul Schoenwalder Plumbing, Heating and Air Conditioning, A Corp. is who to contact for Chatham air purifier services.