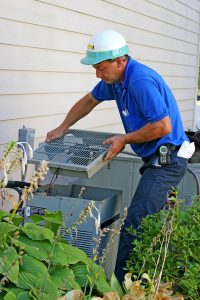 We're talking about air conditioning maintenance, here. While it's never "too late" for this service—in the absence of a complete system breakdown, that is—now is generally the best time to have it done.
And we get it, when an HVAC professional recommends a service that you don't see an immediate need for, it can be easy to dismiss, unless something is seriously wrong with your cooling system (like a loss of cooling power).
Just like maintenance for your car, however, routine AC maintenance is essential to the performance of your cooling system as well as repair prevention. Our team is a trusted resource, and because of that, we feel it's our duty to share with you why routine maintenance is so vital.
The Goal of Preventive Maintenance
Understandably, if you've never scheduled maintenance before or if you don't know much about it, this will be one of your first questions. Maintenance is when our professional technicians come in and thoroughly clean the interior components of your air conditioner (or heating system). This ensures that the system is able to perform and operate at its highest efficiency.
Additionally, we inspect your HVAC system to check for any components that need adjustment, repair, or even replacement. Overall, maintenance serves to improve the longevity and performance of your air conditioning system, and we really can't understate how important it is.
When to Schedule Maintenance
As we stated above, it's never really too late to schedule maintenance, if your air conditioner is functional. The time of year is less important than how often you have it done. You should be making a maintenance appointment once a year for your air conditioner, once for your heater, and if you have a year-round heat pump, once every six months.
That said, now is a great time to schedule your air conditioning maintenance, since it's before a period of heavy system use. This will ensure your air conditioner gets you through this coming summer with ease, and without sudden and urgent repair needs.
Improve Your Comfort and Safety with Routine Maintenance
One of the main reasons you should keep up on your annual AC maintenance is your comfort, of course. Without maintenance, over the years your air conditioner will start performing less and less effectively or efficiently. The components will start to wear down due to age, but you may not even be aware they need repair or replacement until they break down completely.
Maintenance also helps to keep you safe. Your air conditioner has a number of components that only a trained professional should be dealing with, such as your compressor, and refrigerant. Dealing with these things on your own can lead to further damage to the system, as well as a threat to your safety. Safety is key when it comes to heater maintenance, too—particularly if you're using a gas-powered system.
Max Sr & Paul Schoenwalder Plumbing, Heating, and Air Conditioning, A Corp. has been serving the heating and cooling needs for residents in the greater Northern New Jersey area for over a century. Contact us for your HVAC needs in Chatham, NJ!