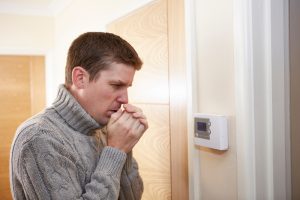 No matter what time of the year it is, there is one thing that you deserve—to be comfortable in your own home. You aren't going to get that, however, if your HVAC systems aren't functioning the way they should. There is a lot that can go wrong with any mechanical system or large piece of equipment. Your furnace is no exception. Remember, just because it seems to be running fine, doesn't mean that's actually the case.
Spotting the signs of problems with your furnace isn't always easy. A heater that won't start is certainly a clear sign that it needs repair—or replacement even if it's an aging system—you'll definitely want to call the pros for furnace repair in Chatham, NJ if this happens. But you should also recognize a more subtle sign, and know that it's bad for your furnace—short-cycling.
What Causes Short-Cycling?
There are a few reasons your heating system might short-cycle. One reason, if this happened the minute you had that furnace installed, is that the furnace wasn't properly sized for your home to begin with. This is why it's important to work with seasoned professionals for your furnace installation!
Other possibilities aren't as drastic, but they could turn into bigger emergencies if not address right away. These are:
A Dirty Air Filter: Fortunately, this is a "problem" you can handle on your own. If the filter in a forced-air heating system is too clogged up with dust and debris, it can create so much airflow resistance that the system overheats and shuts down.
Faulty Capacitor: What if you don't have a furnace heating your home but rather a heat pump? Heat pumps (and central air conditioners) have start and run capacitors, which ignite or maintain a charge. If the run capacitor is faulty, then the heat pump won't be able to continue running as it should.
Refrigerant Leak: Again, this is a heat pump and air conditioner problem. If there isn't an appropriate level of refrigerant in the system due to leaks, then serious damages can develop. Short-cycling might be an early warning sign of such problems.
"Is Short Cycling Really That Bad for My Heater?"
Well, yes. Short-cycling—or rather the frequent starting up and shutting down of your heater—leads to:
System Inefficiency: It takes more power to start a system up than it does to keep that heating system running once it's going. So a short-cycling furnace or HVAC system will never function as efficiently as it would have without the short-cycling problem, which means more money out of your pocket.
Faster Aging: When a heating system starts and stops so frequently, it accumulates a decent amount of wear and tear (more than it otherwise would have). This means there is an increased chance of operational problems and potentially serious damages.
Max Sr & Paul Schoenwalder Plumbing, Heating and Air Conditioning, A Corp. was established over a century ago. We have a long-standing reputation in the community and look forward to providing you with exceptional heating services. Contact us today!