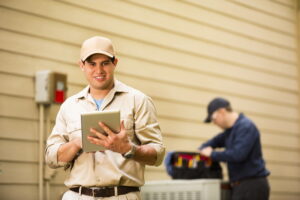 A heat pump is one of the most convenient and efficient home comfort systems out there. If you own a home with a heat pump, you're probably aware of its many benefits. A heat pump is the workhorse of the home, putting in double duty to heat your home in the winter and cool it down in the summer.
Unfortunately, just like other heating and cooling systems, heat pumps don't last forever and will eventually need to be replaced. What are the signs you may need heat pump replacement in your Union, NJ home sooner than later? Here are 5 signs to be aware of.
#1 Heat Pump Age
This is the biggest factor in determining how much longer your heat pump will keep pumping. The average heat pump lifespan is 10-15 years for systems that have had regular maintenance and timely repairs. Heat pump maintenance is recommended twice a year since they work year-round to cool and heat your home. If your heat pump is showing any of the signs below, and it's within this range, it could be due for a replacement soon.
#2 Poor Performance
Have you noticed a steady decline in your heat pump's efficiency? Perhaps your utility bills have gone up or it doesn't seem like it's heating your home as quickly or as efficiently as it has in the past. Paying more money on utility bills for sub-par heating of your home is frustrating indeed. If repairs and maintenance haven't taken care of the issue, it could need replacement.
#3 Blowing Cool Air Instead of Hot Air and Vice Versa
This is a common problem in heat pumps and it's usually a somewhat easy fix. If you're trying to heat your home and all you're getting is lukewarm air, check to make sure your heat pump isn't in cooling mode. Other simple fixes could be a low refrigerant level, a dirty air filter, or an improperly calibrated thermostat. Another possible cause is that the reversing valve is faulty and needs to be replaced.
#4 Heat Pump Won't Turn Off
There are many possible causes for a heat pump that's running constantly. Incorrect thermostat setting, a dirty air filter or coils, a refrigerant leak, a broken compressor contractor, and an incorrectly sized heat pump are all possible culprits. Most of these are easy fixes that'll need to be addressed by the technicians at Max Sr. and Paul Schoenwalder.
#5 Heat Pump Won't Turn On
When your heat pump won't turn on at all, that's not a good sign. The issue could be with the starter capacitor. This is what delivers power to the motor that drives the heat pump. If the heat pump makes a clicking noise when you attempt to turn it on, a faulty starter capacitor is likely the cause and it'll need to be replaced.
A heat pump is a high–efficiency system that can help you to save money throughout the year—but only if it's properly installed, repaired, and maintained. Choose our team to make sure the job is done right.
Established in 1912, Max Sr & Paul Schoenwalder Plumbing, Heating and Air Conditioning, A Corp. is your trusted resource for reliable heat pump repair. Reach out to us today.