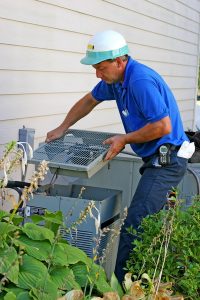 Winter is slowly but surely on its way out, which means it's definitely not too early for one very important air conditioning service—maintenance! Union summers are nothing to contend with, without a fully functional and efficiently operating cooling system. Still, we've found that homeowners are sometimes hesitant to schedule this service—why schedule air conditioning services when you haven't even used the system yet, or if nothing appears to be wrong with it?
Trust us when we say, maintenance is essential to the overall effectiveness of your air conditioning system and your home comfort this spring and summer. Be sure to reach out to our team of professionals for your AC maintenance, and read on to learn how air conditioning maintenance benefits you.
Why You Should Schedule AC Maintenance ASAP
First off, maintenance keeps you cool! Did you maybe notice that last year it was hard to stay cool in your home? Maybe there were hotspots throughout your living space, or you found yourself adjusting the thermostat to no avail. This is just one of the problems that AC maintenance helps our technicians find so we can remedy it for you right away. After all, you deserve the best performance you can get from your air conditioner. Maintenance also contributes to better:
Reliability
Once temperatures do warm up, the last thing you probably want to deal with is an AC system that suddenly breaks down. A broken down air conditioner will certainly leave you and your family pretty uncomfortable during the hottest time of the year.
Scheduling maintenance now means that you can count on your AC to be reliable the whole time you need it this year. If there is a problem with your system, it will be caught by our techs during your tune-up so you can schedule repairs right away and avoid being impacted this summer.
Efficiency
During your maintenance session, our technicians thoroughly clean your system's interior components and make any adjustments necessary too. This all helps your air conditioner perform at its best—the most efficient way possible.
An efficient air conditioner means an air conditioner that consumes less energy, and that translates to less money out of your wallet. With annual maintenance and repairs when needed, your air conditioner may be able to retain 95% of its original efficiency throughout its entire lifespan.
Peace of Mind
It's easy to wait until the last minute, or until something goes wrong, to schedule service for your air conditioner. But if you wait too long to schedule maintenance, you risk your local HVAC technicians being too busy with emergency calls to be able to perform your maintenance at a convenient time.
Calling our team to schedule maintenance now ensures you'll get an appointment that's convenient for you, and allows you enough time to schedule repairs if it's found that you need any—and you don't have to worry about your system all of the sudden breaking down out of the blue.
Established in 1912, Max Sr & Paul Schoenwalder Plumbing, Heating and Air Conditioning, A Corp. is your trusted resource for 
reliable services on your HVAC in Union, NJ. Reach out to us today.